B'Art'fleur, Le Village fait Galerie !

Every two years the tiny village of Barfleur becomes a huge art gallery ! The residents open up their homes for just one weekend, to exhibit the work of around 60 artists.
Painters, sculptors, engravers and photographers from nearby and further afield, show their work in private as well as public spaces – shops, garages, houses and workshops are transformed into temporary galleries.
The visitors (more than 4000 in 2018) discover, with the help of a map, the various artists while exploring the secret heart of one of France's prettiest villages. A whole new way to visit the picturesque little streets of Barfleur, including many places usually closed to public.
Since 2018 the event didn't take place because of Covid-19.
To see photos of the weekend in 2018, click here.
To have a look at the map of the circuits, click here.
Information : bartfleur@gmail.com , 0(0 33)6 37 71 20 44 (Penelope Osborne, president) and on our Facebook pages B'Art'fleur and Barfleur Animation.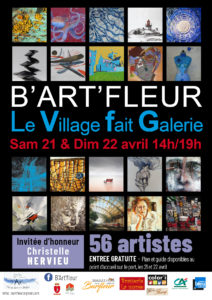 The poster of 2018
Enregistrer
Enregistrer
Enregistrer
Enregistrer
Enregistrer
Enregistrer
Enregistrer