From now on you can make reservations for the summer concerts of Barfleur and have a special price for the 6 concert-pass : 100€ instead of 145€ ! The pass is a guarantee for places in the first rows… This offer is available until the 1st of mai, after that day the price is 120€.
Electronic tickets : click here
Tickets are also available in all 19 tourist offices of the Cotentin.
The program :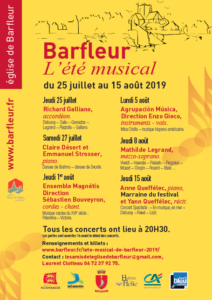 For more information : click here or call 06 43 22 32 81